PROMO STOCKS -25%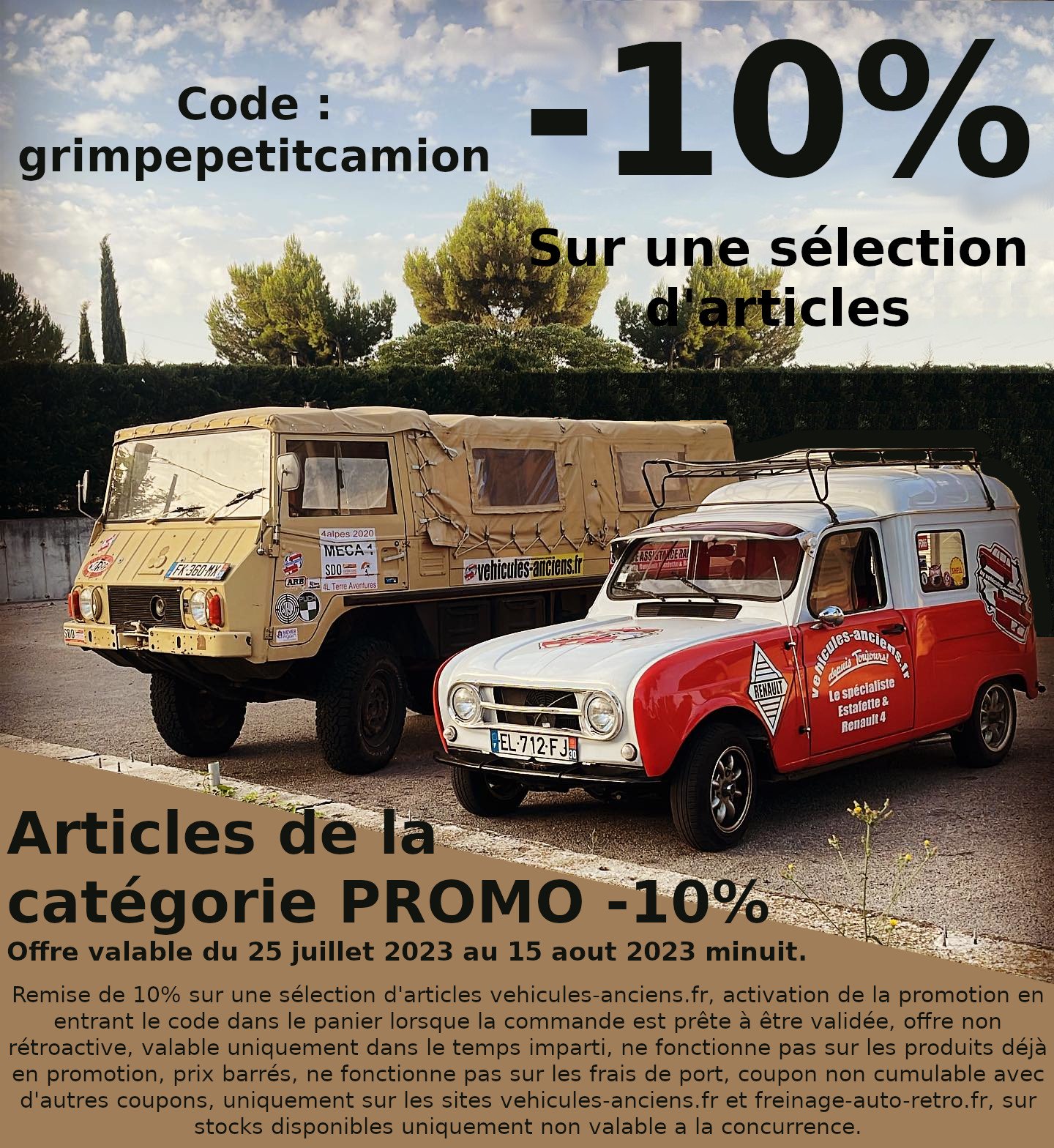 CLEARANCE ON SELECTED REFERENCES -10%!!
Code: grimpepetitcamion
-10% on products in the following category: https://vehicules-anciens.fr/fr/promo-stock-25
Offer valid until Sunday 15 august 2023 midnight.
Use the code in your basket when your order is complete.
Offer or promo code not valid on other parts, not valid on current promotions, kits, discounted products, crossed out prices, shipping costs, on available stock only.
Prices displayed do not include the discount. The discount will take place when you enter the promo code above grimpepetitcamion in the "DISCOUNT CODE" field in your basket :-) Take advantage of these discounts!
Last mount. Refabrication of quality, strictly in accordance with the origin. With fixing. For any Renault Estafette, ======================== Ref. Renault Equivalent(s): - 77 00 505 025, - 7700505025,

Incl. 20 % TAX

In stock

The packages of the day are gone! This product will be shipped 05.10.2023

Shipping costs from 3.99 € for France
Left or right side. Inner ball joint that attaches to the steering rack. Good quality. For all Renault R4 4L sedan or F4 or F6 minivan since 1979. ============================= Ref. Renault equivalent (s): - 77 01 461 010, - 7701461010,

Incl. 20 % TAX

In stock

The packages of the day are gone! This product will be shipped 05.10.2023

Shipping costs from 3.99 € for France
Products

2.00 x Rubber bulb seal (linear meter). (FAR_6_0005)

Bottom seal and stop seal for driver sliding door. Very close to the origin, is clipped in place of origin. For all Renault Estafette with sliding driver door, ================================== Ref. Renault Equivalent (s): - 05 54 921 500, - 0554921500, - 05 54 921 900, - 0554921900,

Incl. 20 % TAX

In stock

The packages of the day are gone! This product will be shipped 05.10.2023

Shipping costs from 3.99 € for France
New product, Remanufacturing, A very small dot of VA65011-CJ glue is recommended, For any Renault R4 4L sedan or F4 or F6 van, ============================= Ref. Renault Equivalent(s): - 77 00 624 068, - 7700624068,

Incl. 20 % TAX

In stock

The packages of the day are gone! This product will be shipped 05.10.2023

Shipping costs from 3.99 € for France
New product, Remanufacturing, A very small dot of VA65011-CJ glue is recommended, For any Renault R4 4L sedan or F4 or F6 van, ============================= Ref. Renault Equivalent(s): - 77 00 568 638, - 7700568638,

Incl. 20 % TAX

In stock

The packages of the day are gone! This product will be shipped 05.10.2023

Shipping costs from 3.99 € for France
Rubber fuel filler neck gasket, strictly compliant with the origin. Recent manufacturing, Industrial manufacturing, Flawless finish For any Renault Estafette, ============================ Ref. Renault Equivalent (s): - 05 54 916 400, - 0554916400,

Incl. 20 % TAX

In stock

The packages of the day are gone! This product will be shipped 05.10.2023

Shipping costs from 3.99 € for France
Suspension arm mounting rubber, At the unit, For rear suspension arm, Strictly compliant, For any Renault Estafette, ================================ Ref. Renault Equivalent (s): - 08 52 635 400, - 0852635400,

Incl. 20 % TAX

In stock

The packages of the day are gone! This product will be shipped 05.10.2023

Shipping costs from 3.99 € for France
Rubber piece, A little longer to cut to adapt perfectly to the car, Positions itself behind the mirror to prevent it from vibrating at certain engine speeds, For any Renault R4 4L sedan and F4 or F6 van with the interior mirror on the dashboard, ================================== Ref. Renault Equivalent(s): - 08 57 606 300, - 0857606300, - 08 57 688 300, - 0857688300, - 77 00 566 231, - 7700566231,

Incl. 20 % TAX

In stock

The packages of the day are gone! This product will be shipped 05.10.2023

Shipping costs from 3.99 € for France
Rubber stopper, Strictly in accordance with the origin, Mounts in place and without modification, For the front axle, For any Renault Estafette, ========================= Ref. Renault Equivalent (s): - 06 07 056 900, - 0607056900, - ...

Incl. 20 % TAX

In stock

The packages of the day are gone! This product will be shipped 05.10.2023

Shipping costs from 3.99 € for France
Refabrication of identical quality at the origin, Mounts in place of the old one. Supplied with the rubber. For 6V or 12V. Brand VADEV. For any Renault Estafette. ============================= Ref. Renault Equivalent (s): - 77 00 588 544, - 7700588544,

Incl. 20 % TAX

In stock

The packages of the day are gone! This product will be shipped 05.10.2023

Shipping costs from 3.99 € for France
New product, Jaw fixing clip on flange, For any Renault Estafette fitted with this assembly, =============================== Ref. Renault Equivalent (s): - ...

Incl. 20 % TAX

In stock

The packages of the day are gone! This product will be shipped 05.10.2023

Shipping costs from 3.99 € for France
Fuel gauge, Attaching to the tank by 3 screws. For any Renault R4 4L sedan or F4 or F6 van equipped with this assembly, ================================ Ref. Renault Equivalent (s): - ...

Incl. 20 % TAX

In stock

The packages of the day are gone! This product will be shipped 05.10.2023

Shipping costs from 3.99 € for France
Rubber bump stopper, New, Sold by the piece, For all Renault Estafette, ========================= Ref. Renault Equivalent(s): - 08 30 030 200, - 0830030200,

Incl. 20 % TAX

In stock

The packages of the day are gone! This product will be shipped 05.10.2023

Shipping costs from 3.99 € for France
Rear suspension suspension, Neuve, Strictly compliant, For any Renault Estafette equipped with this assembly, =============================== Ref. Renault Equivalent (s): - 08 30 030 200, - 0830030200, - 08 30 001 100, - 0830001100, - 08 30 014 700, - 0830014700,

Incl. 20 % TAX

In stock

The packages of the day are gone! This product will be shipped 05.10.2023

Shipping costs from 3.99 € for France
Rubber with plastic insert to guide the passenger compartment side gear lever rod. Original compliant. Ready to assemble. For any Renault R4 4L sedan or F4 or F6 van equipped with this assembly. ============================= Ref. Renault Equivalent(s): - 06 08 336 000, - 0608336000, - 77 05 002 032, - 7705002032, - 06 08 335 900, - 0608335900,

Incl. 20 % TAX

In stock

The packages of the day are gone! This product will be shipped 05.10.2023

Shipping costs from 3.99 € for France
Floor cover, By unit, For floor, hides the holes that allow access to the fastening nuts of the front axle, Complies L = 159 mm For any Renault Estafette, =============================== Ref. Renault Equivalent (s): - 77 00 649 261, - 7700649261,

Incl. 20 % TAX

In stock

The packages of the day are gone! This product will be shipped 05.10.2023

Shipping costs from 3.99 € for France
Floor cover, By unit, For floor, hides the holes that allow access to the fastening nuts of the rear axle, Complies L = 195 mm For any Renault Estafette, =============================== Ref. Renault Equivalent (s): - 77 00 655 435, - 7700655435,

Incl. 20 % TAX

In stock

The packages of the day are gone! This product will be shipped 05.10.2023

Shipping costs from 3.99 € for France
Rear door window seal, 4L F6, Delivered ready to install, For rear window on opening door, For any Renault R4 4L F6 van, ================================ Ref. Renault Equivalent (s): - ...

Incl. 20 % TAX

In stock

The packages of the day are gone! This product will be shipped 05.10.2023

Shipping costs from 3.99 € for France
New product Can be mounted on the left or right. For all models of Renault Estafette. ========================= Ref. Renault Equivalente(s) : - 08 23 788 100, - 0823788100.

Incl. 20 % TAX

In stock

The packages of the day are gone! This product will be shipped 05.10.2023

Shipping costs from 3.99 € for France
Rubber for step, New, Strictly in accordance with the origin, As a replacement for the same model, For any Renault Estafette equipped with this assembly, =========================== Ref. Renault Equivalent (s): - ...

Incl. 20 % TAX

In stock

The packages of the day are gone! This product will be shipped 05.10.2023

Shipping costs from 3.99 € for France
Seal for the ring including the gearbox lever. Compliant with the origin. Kit of 2 parts. Ready to go. For any Renault R4 4L sedan or F4 or F6 van equipped with this assembly. ============================= Ref. Renault Equivalent (s): - 77 00 532 414, - 7700532414, - 77 00 520 531, - 7700520531,

Incl. 20 % TAX

In stock

The packages of the day are gone! This product will be shipped 05.10.2023

Shipping costs from 3.99 € for France
Full lower seal, as original. Foam material, Foam appearance slightly different from the origin, but shape conforms to the origin, Controlled hardness and allows the trunk to close, Product tested on our car , Requires precise gluing, ============================= Ref. Renault equivalents: - 08 21 539 900, - 0821539900.

Incl. 20 % TAX

In stock

The packages of the day are gone! This product will be shipped 05.10.2023

Shipping costs from 3.99 € for France
Reproduction. For a swing door, left or right, Hardened steel, Strictly compliant, Guaranteed editing, Made in France, For any Renault Estafette, ============================= Ref. Renault equivalent(s) : - 77 00 516 212, - 7700516212, - 8065623,

Incl. 20 % TAX

In stock

The packages of the day are gone! This product will be shipped 05.10.2023

Shipping costs from 3.99 € for France
Main radiator lower hose, Materials: Silicone. High quality. For all models of Estafette from 1977 to end of production. Br> ============================ Ref. Renault Equivalent (s): - 77 00 641 607, - 7700641607,

Incl. 20 % TAX

In stock

The packages of the day are gone! This product will be shipped 05.10.2023

Shipping costs from 3.99 € for France
Main radiator lower hose, Materials: Silicone. High quality. For all models of Estafette from 1962 to 1976. ======================== Ref. Renault Equivalent(s): - 77 00 587 900, - 7700587900,

Incl. 20 % TAX

In stock

The packages of the day are gone! This product will be shipped 05.10.2023

Shipping costs from 3.99 € for France
Main radiator filling hose, The one by which you perform the coolant level, Materials: Silicone. High quality. For all models of Estafette from 1977 to end of production. Br> ============================ Ref. Renault Equivalent (s): - 08 52 896 600, - 0852896600,

Incl. 20 % TAX

In stock

The packages of the day are gone! This product will be shipped 05.10.2023

Shipping costs from 3.99 € for France
Main radiator filling hose, Hose by which you make the water level, Materials: Silicone. High quality. For all models of Estafette from 1962 to 1976. ======================== Ref. Renault Equivalent(s): - 05 52 896 600, - 0852896600,

Incl. 20 % TAX

In stock

The packages of the day are gone! This product will be shipped 05.10.2023

Shipping costs from 3.99 € for France
Left side radiator hose, Left side, For Cleon 956 or 1100cc engine, The 4L Cleon engine is the motor whose electric fan is attached to the radiator. Guaranteed editing. The big advantage of silicone hoses lies in their characteristic to withstand extremely well all the stresses that they can undergo. This gives them an excellent performance over time. They are indestructible! For any Renault R4 4L sedan or F4 or F6 van with Cleon 956 or 1100cc engine, ============================== Ref. Renault Equivalent (s): - 77 00 580 937, - 7700580937,

Incl. 20 % TAX

In stock

The packages of the day are gone! This product will be shipped 05.10.2023

Shipping costs from 3.99 € for France
Lower heat radiator hose, Inferior For Cleon 956 or 1100cc engine, The 4L Cleon engine is the motor whose electric fan is attached to the radiator. Guaranteed editing. The big advantage of silicone hoses lies in their characteristic to withstand extremely well all the stresses that they can undergo. This gives them an excellent performance over time. They are indestructible! For any Renault R4 4L sedan or F4 or F6 van with Cleon 956 or 1100cc engine, ============================== Ref. Renault Equivalent (s): - 77 00 581 084, - 7700581084, - 77 00 676 589, - 7700676589,

Incl. 20 % TAX

In stock

The packages of the day are gone! This product will be shipped 05.10.2023

Shipping costs from 3.99 € for France
Right side radiator hose, Right side, For Cleon 956 or 1100cc engine, The 4L Cleon engine is the motor whose electric fan is attached to the radiator. Guaranteed editing. The big advantage of silicone hoses lies in their characteristic to withstand extremely well all the stresses that they can undergo. This gives them an excellent performance over time. They are indestructible! For any Renault R4 4L sedan or F4 or F6 van with Cleon 956 or 1100cc engine, ============================== Ref. Renault Equivalent (s): - 77 00 580 937, - 7700580937,

Incl. 20 % TAX

In stock

The packages of the day are gone! This product will be shipped 05.10.2023

Shipping costs from 3.99 € for France
Main radiator hose, superior, For Billancourt engine, The Billancourt engine is the engine with the fan propeller attached to the water pump. Guaranteed editing. The big advantage of silicone hoses lies in their characteristic to withstand extremely well all the stresses that they can undergo. This gives them an excellent performance over time. Indestructible hose! For any Renault R4 4L sedan or F4 van equipped with a Billancourt engine, ================================= Ref. Renault Equivalent (s): - 77 00 550 928, - 7700550928, - 08 57 728 900, - 0857728900,

Incl. 20 % TAX

In stock

The packages of the day are gone! This product will be shipped 05.10.2023

Shipping costs from 3.99 € for France
Heating hose, Superior For Billancourt engine, The Billancourt engine is the engine with the fan propeller attached to the water pump. The big advantage of silicone hoses lies in their characteristic to withstand extremely well all the stresses that they can undergo. This gives them an excellent performance over time. They are indestructible! For any Renault R4 4L sedan or F4 van equipped with a Billancourt engine, ================================= Ref. Renault Equivalent (s): Radiator upper hose (which includes the thermostat): - 77 00 550 928, - 7700550928, - 08 57 728 900, - 0857728900, Radiator lower hose : - 08 57 730 100, - 0857730100, Heating hoses: - 77 00 595 626, - 7700595626, - 77 00 595 627, - 7700595627, - 77 00 695 523, - 7700695523, - 77 00 573 734, - 7700573734, - 77 05 026 840, - 7705026840, - 77 00 695 524, - 7700695524, - 77 05 026 316, - 7705026316, - 77 00 518 211, - 7700518211, - 77 05 026 591, - 7705026591,

Incl. 20 % TAX

In stock

The packages of the day are gone! This product will be shipped 05.10.2023

Shipping costs from 3.99 € for France
Remanufacture, Very good product delivered with cap, Quality reproduction, Brand VADEV, Vehicles-Anciens DEVeloppement, For any Renault Estafette equipped with this assembly, ============================= Ref. Renault equivalent: - 77 04 000 003, - 7704000003,

Incl. 20 % TAX

In stock

The packages of the day are gone! This product will be shipped 05.10.2023

Shipping costs from 3.99 € for France
Mounting rubber, For exhaust "first assembly", ref. VA7301-KIT, Also suitable for mounted exhausts for export, Strictly compliant, For any Renault Estafette equipped with this assembly, ================================ Ref. Renault Equivalent (s): - 77 00 536 829, - 7700536829,

Incl. 20 % TAX

In stock

The packages of the day are gone! This product will be shipped 05.10.2023

Shipping costs from 3.99 € for France
Mounting rubber suspension arm front, Upper arm, left or right, A piece. Quantity of two per arm needed. Inner tube length: 27, Outside tube length: 23, Outside diameter: 26, Diam int: 12. For any Renault R4 4L sedan or F4 or F6 van, =================================== Ref. Renault Equivalent (s): - 77 00 518 392, - 7700518392, - 77 00 518 856, - 7700518856,

Incl. 20 % TAX

In stock

The packages of the day are gone! This product will be shipped 05.10.2023

Shipping costs from 3.99 € for France
Taillight lens, Right side, Very nice remaking, Strictly compliant, Delivered without screws to recover on the old one, For any Renault R4 4L F6 van, ================================== Ref. Renault Equivalent (s): - 77 01 018 680, - 7701018680,

Incl. 20 % TAX

In stock

The packages of the day are gone! This product will be shipped 05.10.2023

Shipping costs from 3.99 € for France
Taillight lens, Left side, Very nice remaking, Strictly compliant, Delivered without screws to recover on the old one, For any Renault R4 4L F6 van, ================================== Ref. Renault Equivalent (s): - 77 01 018 683, - 7701018683,

Incl. 20 % TAX

In stock

The packages of the day are gone! This product will be shipped 05.10.2023

Shipping costs from 3.99 € for France
Products

1.05 x Rear Estaf sliding door seal profile. Driver. (FAR_6_0016)

Rear seal for sliding door driver. Originally compliant, snaps in place of origin. For sliding door driver, For all Renault Estafette with sliding driver door, ================================= Ref. Renault Equivalente: - 05 54 921 700, - 0554921700,

Incl. 20 % TAX

In stock

The packages of the day are gone! This product will be shipped 05.10.2023

Shipping costs from 3.99 € for France
Products

0.75 x Upper Estaf sliding door seal profile. Driver. (FAR_6_0017)

Top rubber seal for sliding door driver. Originally compliant, snaps in place of origin. For sliding driver door, For all Renault Estafette with sliding driver door, =============================== Ref. Renault Equivalent (s): - 05 54 921 300, - 0554921300

Incl. 20 % TAX

In stock

The packages of the day are gone! This product will be shipped 05.10.2023

Shipping costs from 3.99 € for France
Rubber washer, Strictly compliant product, To lock the door in the open position with the latch, For any Renault Estafette fitted with a sliding door, =========================== Ref. Renault Equivalent (s): - 05 55 288 900, - 0555288900, - ...

Incl. 20 % TAX

In stock

The packages of the day are gone! This product will be shipped 05.10.2023

Shipping costs from 3.99 € for France
Door seal 4L F4, Higher or lower, Joint profile very close to the origin. Glues with our VA65011-CJ glue, For any Renault R4 4L F4 van, with or without girafon, =============================== Ref. Renault Equivalent(s): - 08 23 980 000, - 0823980000, - 77 00 621 506, - 7700621506,

Incl. 20 % TAX

In stock

The packages of the day are gone! This product will be shipped 05.10.2023

Shipping costs from 3.99 € for France
Window lock, Beige color, With spring, screws and all fittings, To be screwed through the hole provided on the sliding window of the 4L, For any Renault R4 4L sedan or F4 or F6 van equipped with this assembly, =========================== Ref. Renault Equivalent(s): - ...

Incl. 20 % TAX

In stock

The packages of the day are gone! This product will be shipped 05.10.2023

Shipping costs from 3.99 € for France
Steering ball joint, Strictly compliant, Rubber, For any Renault Estafette, ============================== Ref. Renault Equivalent (s): - 06 06 983 500, - 0606983500,

Incl. 20 % TAX

In stock

The packages of the day are gone! This product will be shipped 05.10.2023

Shipping costs from 3.99 € for France
New product, Fitted parts, sand down any signs of wear on the arm, oil the arm, and insert very gently. Refabrication allowing to be mounted on the left or on the right indifferently, unlike the original model of which there are two symmetrical references, one for the left and one for the right, Very good quality, For any Renault Estafette fitted with this mirror attachment, =========================== Ref. Renault Equivalent (s): - 77 01 016 374, - 7701016374, - 77 01 016 375, - 7701016375,

Incl. 20 % TAX

In stock

The packages of the day are gone! This product will be shipped 05.10.2023
Wheel nut with washer, New, For Michelin rims. For any Renault Estafette fitted with Michelin rims corresponding to this assembly, ============================= Ref. Renault Equivalent (s): - 5547415, - 4276863, - ...

Incl. 20 % TAX

In stock

The packages of the day are gone! This product will be shipped 05.10.2023
(PHOTO OF A USED PART BEFORE REPLACING BY THAT OF THE NEW). Engine mount, For Cleon 1100cc engine, New product of remanufacturing, Mounts right or left, Strictly compliant, For any Renault Estafette equipped with this assembly, =============================== Ref. Renault Equivalent (s): - 08 300 27 100, - 0830027100,

Incl. 20 % TAX

In stock

The packages of the day are gone! This product will be shipped 05.10.2023

Shipping costs from 3.99 € for France
Upper suspension ball joint, Left or right side, Mounts in place of the original ball joint, Exclusive to VADEV, For any Renault 4 produced between 1961 and 1965, ================================ Ref. Renault Equivalent (s): - ...

Incl. 20 % TAX

In stock

The packages of the day are gone! This product will be shipped 05.10.2023

Shipping costs from 3.99 € for France
Lower suspension ball joint, Left side, Conforms to the original, Exclusive to VADEV, For any Renault 4L produced between 1961 and 1969, ============================ Ref. Renault Equivalent (s): - ...

Incl. 20 % TAX

In stock

The packages of the day are gone! This product will be shipped 05.10.2023

Shipping costs from 3.99 € for France
Lower suspension ball joint, Right side, Conforms to the original, Exclusive to VADEV, For any Renault 4L produced between 1961 and 1969, ============================ Ref. Renault Equivalent (s): - ...

Incl. 20 % TAX

In stock

The packages of the day are gone! This product will be shipped 05.10.2023

Shipping costs from 3.99 € for France
Upper suspension ball joint, Left or right side, Mounts in place of the original ball joint, Exclusive to VADEV, For any Renault 4 produced between 1965 and 1969, ================================ Ref. Renault Equivalent (s): - ...

Incl. 20 % TAX

In stock

The packages of the day are gone! This product will be shipped 05.10.2023

Shipping costs from 3.99 € for France
Copyright MAXXmarketing GmbH
JoomShopping Download & Support